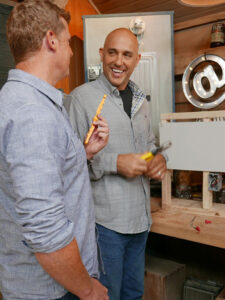 TORRANCE, CA, MAY 5, 2017 — Nonconductive Tool Company (NTC) announced today that its Voltclaw-12 multi-use tool was featured on a recent episode of the Emmy award winning PBS home improvement series Ask This Old House.
During the program, master electrician Scott Caron demonstrates how the Voltclaw-12 makes working with wires easier to Ask This Old House host Kevin O'Connor. First, Scott shows Kevin how the Voltclaw easily "cranks" on wire connectors with its built-in wrench. Next, Scott gives a lesson on using the nonconductive Voltclaw-12 to safely push-in and then grab wires to remove them from an electrical box. Last, Scott employs the Voltclaw to loop the end of a stripped wire for connection onto an electrical switch.
"We are thrilled Voltclaw was featured on Ask This Old House," said Warren Tarbell the CEO of NTC and the inventor of the Voltclaw. "Being put to use by an electrician of Scott Caron's caliber validates what we believe: the Voltclaw is a safety-enhancing, timesaving multi-use tool that is a necessary addition to the tool bags of professional electricians like Scott as well as DIY homeowners."
This Old House Ventures, LLC, is America's No. 1 multiplatform home-enthusiast brand, providing trusted information and expert advice through its award-winning television shows, This Old House and Ask This Old House, its highly regarded This Old House magazine, and its inspiration- and information-driven digital properties, including thisoldhouse.com.
For complete information, visit www.voltclaw.com.
About Nonconductive Tool Company, LLC
Headquartered in Torrance, California, the Nonconductive Tool Company, LLC is committed to creating and manufacturing tools that help keep electricians safe and able to perform their functions to the highest level of their abilities. It's American made tools include the award-winning VoltClaw™, a groundbreaking new way for electricians to work safely around wiring. The Voltclaw was invented by the company's founder, Warren Tarbell, an electrician and contractor. To learn more, visit www.voltclaw.com.